Front Load Washer Dryer
WDB184QWA - White
Washing Capacity: 8kg
Drying Capcity: 6kg

Spin speed: 1400 rpm
Delayed start: Up to 24 hours
Programs: Hygiene+, Cotton, Duvet, Wool, Wash & Dry 60', Dry, Flash 14', Rapid 45', etc
Options: Add Wash, Rinse+, Easy Jet, Prewash, Drum Clean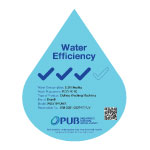 53 Liters Comfort for 8kg Laundry and 6kg Drying
53 liters drum to wash 8kg Laundry and 6kg Drying with great care while optimizing energy consumption.

An exclusive anti-bacteria program which eliminates 99.9% of bacteria and germs with washing temperatures of up to 65°C! Leaving both your washing machine and laundry germ-free.
Drum Clean Function
After 25 washing cycles, the washing machine prompts for a cleaning to disinfect the machine at a temperature of 90°C. Press the button to start the programme.
Automatic Washing + Drying Program
This functions alllows you to activate an automatic round of drying after washing, without the need to program a duration.